Happy Friday everyone! I bet you are all as happy as I am that Friday is finally here. To start off this day, I'm participating in two different blog memes. They complement each other so well, it just had to happen!
The first is The Friday 56 from Freda's Voice! The rules are:
1. Grab a book, any book.
2. Turn to page 56, or 56% on your eReader.
3. Find any sentence (or a few, just don't spoil it) that grabs you.
4. Post it.
5. Add the URL to your post in the link on Freda's most recent Friday 56 post.
—
The second is Book Beginnings from Rose City Reader! The rules are:
Share the first sentence (or so) of the book you are reading, along with your initial thoughts about the sentence, impressions of the book, or anything else the opener inspires. Please remember to include the title of the book and the author's name.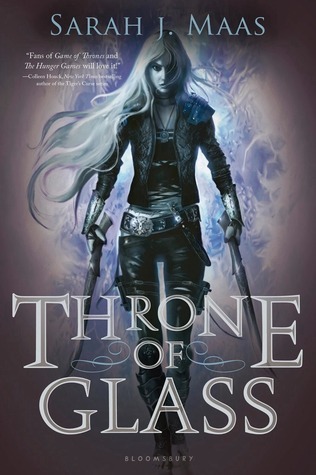 The book I selected for this Friday is Throne of Glass by Sarah J. Maas. I've been wanting to read this book for ages (I feel like I'm the only one who hasn't 😛 ). So, I'm starting it today!
Book Beginning:
After a year of slavery in the Salt Mines of Endovier, Celaena Sardothien was accustomed to being escorted everywhere in shackles and at sword-point.
56:
Instead of reading, she could perhaps use the pianoforte, but… well, it had been a while, and she wasn't sure she could endure the sounds of her own clumsy playing. She traced a finger over a splotch of fuchsia silk on her dress. All those books, with no one to read them.
These sentences definitely want to make me read the book right away—mission accomplished! 😀 What do you guys think? Do you have a 56 or book beginning?