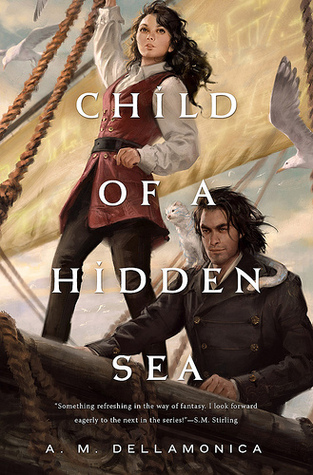 Title: Child of a Hidden Sea
Author: A.M. Dellamonica
Publisher: Tor, imprint of Macmillan
Date Published: June 24, 2014
Format: Galley– received in exchange of a fair review
This book was an insane amount of fun to read! It's light-hearted in a way that is sadly missing from much of adult fantasy. The story is the perfect beach read for a girl (me) who typically despises beach reads– I hate them with a passion. It's fun, without being dumb, and the protagonist is spunky and brave, without being annoying beyond belief.
Our lead, Sophie, is a twenty-four year old who is seriously avoiding defending her master's thesis. Instead she explores the world; she goes on research dives, climbs mountains, and spends large amounts of time sailing around at sea. Apart from her thesis, Sophie has one thing weighing her down: finding her biological family. She adores her adoptive family, her brother Bram is her best friend, but she still wants to find out something about the people that abandoned her. When she finally finds them, she sees her aunt being attacked by some creeps in an alley. As she is running in to stop them, a crazy wind starts up. Next thing she knows, she is in a different world. Sophie finds herself floating in the middle of the ocean with an unconscious aunt she doesn't even know.
Sophie is thrust into a new world of political intrigue, hot sailors, and magic. What I probably love most about the novel is how she reacts to finding herself there. She does notice the handsome men and the corrupt politics, but her main focus is trying to figure out exactly where she is. This world is similar to Earth, but slightly different in more ways than just the magic. The animals look like their Earthen siblings, but are different enough to warrant some notice. Sophie is reluctant to accept magic as an answer and is always looking for scientific explanations. This is a more realistic response to an unknown situation than I usually see in most fictional characters. She is asking questions the majority of protagonists don't even bother about. To me, this made Sophie into an especially intriguing character.
I haven't read too many portal fantasies that I have actually enjoyed; these are fantasy stories where the hero is in our world and is transported into another fantastical one. There are some classics that are obviously really good (Narnia and Alice in Wonderland to name a couple), but for contemporary adult books… the landscape is pretty sparse. Child of a Hidden Sea did a great job reminding me what can be so great about portal fantasies. The characters are thrown into a new world, just like the readers. This is particularly pleasing when you have a character like Sophie; we feel like someone is asking the questions we want answered.
Cover Critique: I really like this cover. It's a simple design that serves to show off a lovely illustration. Our lead is front-and-center with a pretty sailor boy by her side. There is also a hint at the magic in the book with the script on the sails. This cover would totally get my attention at a bookstore. It really conveys a sense of lightness that I feel is really appropriate to the story, and sets it apart from so many other fantasy books out there.
Quick Version: This book should really be in your bag for your next trip to the beach or for sitting by the pool. It is an intelligent and funny book with an exciting adventure and memorable characters. Child of a Hidden Sea has all the fun of a light and fluffy book, but it can surprise you at times with the amount of depth Dellamonica was able to pack into the world and it's inhabitants. I enjoyed this book a lot, as you can probably tell, and I really loved the main character, Sophie. It's tough in adult fantasy to find an engaging, intelligent, and flawed female lead– and this book definitely had that.
Score: 4.5/5 stars 😎